02
Dec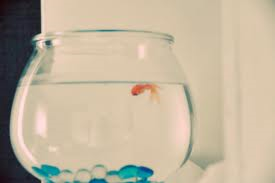 From the day we arrive on the planet
And blinking, step into the sun
There's more to be seen than can ever be seen
More to do than can ever be done
In the circle, the circle of life
Every time I watch the scene from the animated film The Lion King when Mufasa proudly holds his young cub Simba high in the air, I well up with tears. Something about the message being shared between a father and his son, coupled with the rhythmic beating of the drums, gets me in my get up every time.
I started thinking about this yesterday when chatting with a good friend about how to break the news to her 4-year old daughter that her beloved fish had died. My friend was debating on the honest approach – tell her the truth and take her to the pet store to buy another fish. A green one.
I, too, have always opted for the truth with my kids – with the occasional indulgence into fantasy (Tooth Fairy, Easter Bunny, Santa Claus) – so, I understood exactly where she was coming from. However, I learned a long time ago that the truth may not always be the best thing with young kids. At least that's the lesson I learned years ago when trying to explain the circle of life to my then 5-year old son when his pet fish Oscar died.
Let me take you back to that tragic day.
Returning home from school one day, my son walked past me to greet his aqua buddy – only to find an empty fishbowl. You see, earlier that morn after taking my son to school, I returned home to find his pet fish Oscar – belly up. Sleeping with the fishes. For a moment, I panicked. I didn't know how I would break the news to my son that his fish was dead.
Did he even really understand what "dead" meant?
He was after all only 5-years old, and it wasn't like we'd ever sat down with him to explain birth or death. To be honest, the closest we'd probably ever gotten to talking about any of this was when trying to explain why mommy always started crying when Mufasa was pushed from the cliff and died. (Seriously, doesn't that scene make your eyeballs tingle?) Anyway, suffice it to say that I was a bit nervous about how my son would react.
Well, at some point during the day, I began to irrationally rationalize that my son probably wouldn't even be upset because most days he barely even paid attention to the fish and if he did get upset, then I could always refer back to a movie we'd seen at least a million times – The Lion King – to explain a simple truth. Life begins and ends. Simple, right?
Wrong.
The kid had a straight up meltdown!
Once he'd scanned the fishbowl from every angle and realized there was no fish, he turned to me and said, "Mommy, where's Oscar?"
I gently replied, "Oscar died, baby. He went to see Jesus."
Wrong answer.
The boy dropped to his knees and sobbed "Osssssssssssssscaaaaaaaaaaaaaaar!"
O-M-G!
In an effort to console him, I immediately began babbling about how all pets go to heaven (at least dogs do) and how everything lives and dies. Wrong, wrong, wrong. The more I talked, the more he cried, and somewhere along the way I started verbally moonwalking. I began rambling on about how Jesus can perform miracles and miraculously Oscar was alive and at the pet hospital (a.k.a. the pet store). We just had to go pick him up.
He stopped crying. So, off we went to the pet store to retrieve "Oscar 2.0"
The moral of this story is: honesty will only get you but so far with a 5-year old.
I can't wait to hear how my girlfriend says it went with her daughter.