16
Oct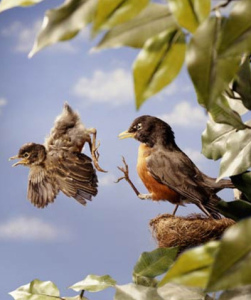 Why is it that folks look at me cross-eyed when I say that after graduating high school, I plan to push my children out of the nest?  From the time they entered kindergarten, I've lectured my children about the next 16 years of education. Although I myself received my education through the College of Life, by way of the military with a brief detour through college, I've always dreamed that my children would make smarter choices. So, college has always been an expectation.
However, I'm a realist, so I know that there's a chance that my kids will upset even my best laid plans. So should they choose to forego an immediate trek to college post-graduation, the only other option would be the military where he or she could learn a trade, travel the world, earn a living, and still attend college (on the government's dime) should they later change their mind. No matter what, either of these options would come well packaged with tons of hugs, a starter care package, and a new set of luggage. This was, after all, the same parting gift that my mom gave to me upon graduation. At the time, however, I was naïve enough to believe that my mother was simply encouraging my spirit of adventure; now, I can look back and see her not so subtle hint on what my next steps should be.
At no point, however, have I ever entertained what's behind Door No. 3 – an extended stay at home, whether it was just to "take a break from school" or work at the local McDonald's. This is so not an option.
Let me say that I really do love my children. However, for the past 17 years I have lovingly sacrificed my body, my energy, and at times my sanity to raise my children. Is it wrong of me to view graduation as the finish line at the end of a double marathon; the pot of gold at the end of the rainbow; the light at the end of the tunnel?
Graduation is not just for the child. It is an acknowledgment that parents have successfully paid their dues and can finally reap what they've sown. So, pardon me if I choose to push my little birdies out the nest should they not feel compelled to fly the coop on their own. Fly, baby, fly!