13
Oct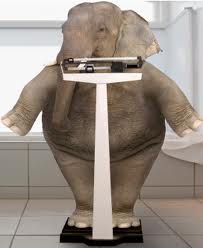 I don't think I'd ever acknowledged even to myself that I had weight woes. After all, I'd been blessed with good genes that, for most of my life, allowed me to eat whatever I wanted without fear of it hanging around too long. I was that girl who was actually trying to gain weight, regularly downing milkshakes, pasta and potatoes in an effort to round out my girlish figure. (Let me tell you, it's hard being a black woman with no meat on your bones.)
Well, somewhere in the black hole of my 20s and 30s, my children entered into this world each bearing the gift of 10+ pounds that I toted around like trophies of post-childbirth. And, before I realized it, I was eyeballing someone else's body whenever I passed by a reflection. Yet, I still wouldn't give voice to what I knew was becoming an issue for me.
However, enlightenment came to me when I didn't expect it – during a summer excursion with the kids to the National Zoo.
The zoo's elephant house has an exhibit where zoo visitors can step on a floor scale to see how they compare in weight to other wildlife. Good-naturedly, I waited as the man ahead of me stepped on the scale, absently noting his weight in my mind as he moved forward off the scale. Then it was my turn. I instinctively shifted my weight from one foot to the other, as if trying to recalibrate the scale, as my mind subconsciously tried to rationalize why the numbers on the scale went up once I'd stepped on the scale. Then I looked up at the wildlife chart, and everything went still.
I was the equivalent of a wildebeest. A wildebeest!
(Of course, this is where the story becomes blurry. I think I may have blacked out.)
I was completely devastated. My children spent the remainder of the afternoon – unsuccessfully – trying to talk me down off of the mental ledge.
Mom, it's not that bad.
You look fine to us.
You look good for your age.
It wasn't a wildebeest…I think it said you were closer to a baby African elephant.
I'm sure they meant well – in a let-me-kick-you-while-you're-down-kinda-way – but I was inconsolable. No longer could I rest on my laurels that I was just carrying around "baby fat," despite the fact that my daughter was going into kindergarten. I was lugging around a wilderbeast, for crying out loud!
There in the elephant house I finally admitted to myself that my metabolism hadn't slowed down. I had. That lean, mean fat-burning machine that I'd lived in most of my life was decades gone. Milkshakes, pasta, and potatoes (preferably fried) were no longer close friends of mine. They'd become squatters who'd long overstayed their welcome. And, it was time to clean house.
While I would have preferred to come to this realization in a less traumatic fashion, I am now grateful for my elephant house epiphany. It was just the sort of shock trauma that I needed to wake up and face myself in the mirror. I can now look back on that experience, 20 pounds lighter, and laugh because I've finally learned how to tame my inner wildebeest.