21
Jan
Spiritual Eyesight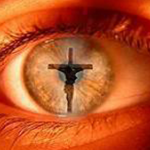 There have been many times in my life when I thought I knew what the right thing was, only to find myself in a situation that was not healthy for me. Even more, there have been times when I've thrown caution to the wind and willfully walked into situations that I knew were unhealthy, quietly praying that it would all work out in the end. (Thank the Lord for guiding me through my foolish, but fun, 30s!)
 As I've seasoned in life, I've tried to be more deliberate in my actions. I'd like to think it's because I am trusting God to lead me where I need to be, but I know I still get in my own way. I believe that He has great things in store for my future, but I also need to focus on my present.
I think I have Spiritual Farsightedness. My symptoms are:  missing out on daily blessings; can't see God up close; and tripping over trials and tribulations.
Yep, sounds like my eyesight is off and needs to be tuned up. I need to get my vision adjusted to add some spiritual nearsighted so I can appreciate God in the moment, in addition to praising him in advance.
Curious, how's your spiritual eyesight?