23
Dec
In Too Deep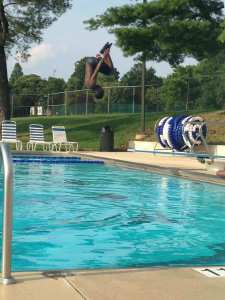 Yesterday I visited a podiatrist to address pain that I'd been experiencing in my foot since the summer. After 5 months of pain, I'd finally decided that I needed a professional opinion to confirm what I already knew. My foot was broken.
This all happened during a summer trip to my aunt's backyard pool. My five-year old daughter had decided to test out her newfound swimming skills by playing swim instructor, and I was volun-told that I'd be the student. Obediently I watched as she first demonstrated each skill before commanding me to follow suit, one drill after another.
Plunging below the water's surface, she popped up sputtering, Mommy, put your face in the water!
Her arms and legs splashing furiously, she ordered, Mommy, kick your legs!
Now, cannonball!
In she went. Splash!
Dutifully I lined up, happily poised in her fast-drying footprints.
Wait…what?!…Cannonball???
I glanced at the markings along the pool's edge – No Diving  3'8".
My not-so-common sense was loudly whispering – You know this might not be a good idea, right? Uh…maybe not. Yet, I closed my eyes and jumped anyway.
So many times in life, we make decisions in spite of the warning signs right before our eyes. If we're lucky, we're able to walk away from those choices with just a few emotional bumps and bruises, but sometimes we find ourselves hobbling away – broken – having to live with the pain of our decision.
If you're anything like me, it might take you a while to even admit that there is a problem. You'll ignore, hide, deny, and even make excuses for the pain. You'll convince yourself that it doesn't hurt that bad or you can live with it, trying to ignore that constant voice whispering inside. But, there's a lesson even in our pain.
We all have made, are making, or will make mistakes in our lives. We'll ignore the warning signs, jump, and sometimes come up broken. But, the healing begins when we admit that no one pushed us into the deep end or, in my case, the shallow end. It is a choice. I guess the lesson I learned in all of this was that I need to heed the signs that warn of dangers ahead as it could save me from a moment or a lifetime of pain and to listen to that voice inside when it cautions me to pause…slow down…don't jump. Well, of course, that and to be smarter than a 5-year old.