25
Nov
Parenting Black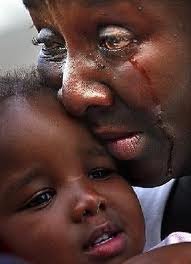 From the time that they were babies, I taught my children to be respectful of everyone, to hold their heads high, and to fear no one.
I was wrong.
Raising young black men, I haven't had the parental luxury of painting a world that would open doors for them – if only they worked hard and treated everyone with respect. I've always known that I would need to prepare my boys for a world that would judge them often before even meeting them. However, I guess I always naively hoped that one day their world would be different from the one that I grew up in. I hoped that they would be judged on their merits alone, with no consideration to the color of their skin.
I was wrong.
To be honest, I've known that race would play a part in my parenting since before they were born. I had to reflect on race when naming them. Aware of studies reported in journals such as The American Economic Review and The Journal of Labor Economics that have shown racial disparity in hiring based on the names of candidates – not just the colleges they attended or their experience – I carefully crafted my children's names, hoping to knock down at least one hurdle they'd have to face in life.
I taught them to be respectful of everything and everyone – parents, elders, peers, teachers, authority figures, property, animals.  Everything. When growing up in a country that places a higher value on an animal and or a piece of property over that of a child (namely one that looks like mine), we can't afford to miss the tiny details.
I taught them to hold their heads high and to look someone in the eye when being addressed. Not just because it will show confidence, intelligence, and engagement but serves to dispel any misguided perception that they are insecure, stupid, or lazy.
I taught them to fear no-one and no-thing because God didn't create a sense of fear in us. But, mama didn't raise no fools. I explained that should they ever find themselves in a dangerous situation, their best bet would be to run.
I was wrong.
My children were born into a world in which a target was placed on their backs upon birth, and no matter what I teach them or how I parent, that clearly will not change. The only thing I can do is to pray for coverage over them and continue to reinforce that they should continue to…
Be respectful BUT understand that not everyone else will respect you.
Hold your head high BUT not too high should someone perceive that as being threatening.
Fear no one BUT be sure to keep your hands visible at all times.  
After all, you are a young Black man.