21
Nov
Carrot Parenting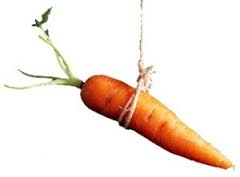 Most times I feel I've done a relatively good job parenting, but then comes those moments of self-doubt when I question where I could have gone wrong and what I could have done differently. I mean, my children are always polite, well-mannered, respectful…and if I dangle the right carrot, they can add honor roll student to their credentials. But, it's that last point that continues to nag me. If I dangle the right carrot.
Why should I have to dangle anything to get you to strive towards excellence? What ever happened to having a little bit of self-motivation and initiative?
Listen, I get that they are children, but I don't recall my mother having to incentivize me or my siblings to take a bath, clean our rooms, or get good grades in school. (Now, don't get me wrong, we all understood that failing to do so could possibly result in a beat down, but that is beside the point. That's just how it was back in the day.) There were EXPECTATIONS, and whether those expectations were communicated out-loud or burned into our psyche from our mother's occasional glare, we understood what our role was and what we needed to do. And, there were no damn carrots!
So, why do I find myself having to dangle some sort of reward in front of my children to get them to do the most basic things for themselves?
If you shower before noon then…
If you do your homework then…
If you clean your room then…
Behind each of those pleas (because it is truly a plea for my sanity), I find myself offering either a simple attaboy or something more tangible just to get them to do. And, it is driving me insane.
I feel like I'm a broken record that can't skip past the scratch on the CD (or the LP for you old heads), and I'm saying the same thing over, and over, and over again. And, quite frankly, I'm tired of listening to myself.
Like many parents, I find myself stuck in this groove where I can't move forward because I think that deep down, I'm afraid that if I stop, I will discover that my children might actually be okay with body odor, dirty rooms, and average or below-average grades. However, if I'm being honest, I'll admit that I believe that my children's failures are a direct reflection of my parenting (with the occasional exception). So, I continue to dangle a carrot, a dollar bill, a threat of punishment, anything to get them to do whatever it is that needs to be done.
Yet for the sake of my own sanity, I feel like I need to cut the umbilical cord on this foolishness and pray that they'll find a nugget of self-initiative to do what they need to do for themselves. But, in case that doesn't happen, I might need to look into booking an extended stay at the local psychiatric hospital.